BBQ chicken tortillas with cinnamon
---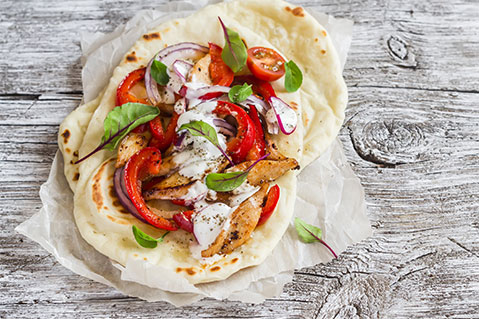 Ingredients:
2 chicken breasts
1 lemon
1 tsp dried or fresh oregano
1 garlic clove
pinch of cinnamon
1 tbsp vegetable oil
3 tbsp Greek yogurt
1 tbsp mayonnaise
¼ red pepper
1 Little Gem lettuce
4 tortillas
salt
Preparation:
Put the chicken strips in a bowl. Grate a little bit of the lemon zest on the meat, then add the lemon juice.
Add salt, oregano, garlic, cinnamon and oil. Mix well, cover and chill for an hour, no more.
Heat the barbecue.
Grill the strips for a couple of minutes each side.
Mix yogurt with mayonnaise.
Warm the tortillas on the grill for a minute, then transfer them to plates and spread each with ½ tbsp of yogurt and mayo mixture.
Place the chicken strips on the tortillas, then dot on the remaining yogurt and sprinkle over the finely chopped red pepper and lettuce.
Roll the tortillas to eat.