White fish fillets with couscous
---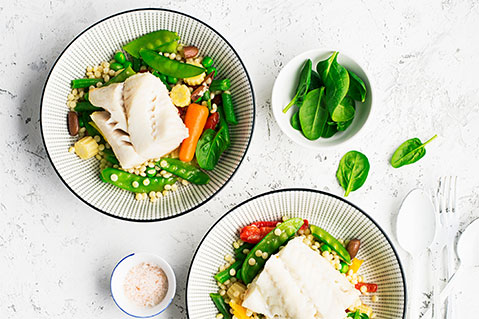 Ingredients:
2  white fish fillets (any you can find or like)
1 lemon
small bunch basil
200g cherry tomatoes
100g couscous
2 tbsp (balsamic) vinegar
2 tbsp of vegetable oil
½ cucumber
2 tbsp pitted olives, black or green
Salt, pepper
Preparation:
Put each fish fillet on top of a sheet of foil. Season the fish, then drizzle with half of the lemon juice and and half of the basil.
Halve 4 of the tomatoes and place them around the fish. Cover it with another sheet of foil, fold the edges together to make a pocket. Cook for 15-18 mins until the foil puffs up.
While the fish is cooking pour 100ml of boiling water over the couscous, cover and leave to swell for 5 mins.
Chop the rest of the tomatoes and mix them with the couscous, diced cucumber, remaining basil, lemon juice and olives. Add vinegar and oil. Season with salt and pepper and serve with the fish.